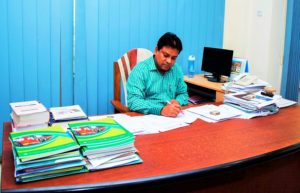 Santosh Chandra Paul, Director, Credit
As one of the major departments of SSS, operation (credit) department keep the economic development, social development and welfare programs and projects into implementation to foster the socioeconomic upward-progress and empowerment. The department, putting especial emphasis on financial and technical services for income generating activities, savings generation, shurakhha (security found) scheme, remittance transfer, leadership, technology transfer, disaster management, relief and rehabilitation, safe-drinking water, sanitation and hygiene promotion, primary healthcares, monitoring, feedback and risk diminishing, communication and relationship with the local government, and so on functions, has been backing up the entrepreneurs generation, self and wage-employment creation, sustainable income, socioeconomic equity, purchasing power enhancement, good-norm and cultures establishment at the grassroots.
Not-a-separation, some dedicated cells and sections–agriculture, fishery, livestock, primary healthcares, ENRICH, nation-building through eradicating malnutrition (NEM), and others under the wings of the department are directed, and a seasoned director leads the department as well.