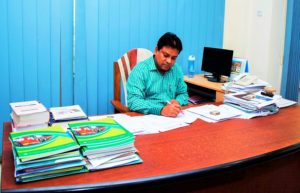 Santosh Chandra Paul, Director, Credit
Financial service for the non-bankable people is the pragmatic feature of microcredit, which brings forth the dynamic role in the field of socioeconomic amelioration at the grassroots and builds up a poverty-free society. Now-a-days, Microcredit Scheme, developing and underdeveloped countries along with Bangladesh have adopted as a major and innovative tool to alleviate poverty, carries out positive and prolific effect as well.
SSS, to keep financial services smoothly and properly into application, formally set up Credit Department to generate positive changes in living standard of the underprivileged people in the working area in 1993. Right now, this department possesses director, who steers the activities up in implementation and controlling with his seasoned hand.
In 2019-20, the organization disbursed credit of Tk. 3,523.13 crore to 6,42,175 families, where on the whole recovery rate is 99.10 percent. This disbursement obtains 5.04 percent growth with the significant realization rate, which attributes to efficiency and quality services, worker-group-member cordial relations, managerial integrity and structure, people-friendly principles and sound work-environment of the organization.
Vision
The vision of the department lies over the statement: gearing up the leadership in monitoring, supervising and operational activities belonging to the financial services program to engender the effectiveness at every stage.
Activities
Activities under the credit department are as below:
Providing the authority with support and participation in policy making.
Setting up operational planning and budget and putting it in application.
Overall program monitoring and supervision and staff development.
Organizing and attending different internal and external meetings, functions, event and workshops.
Handling and locking after inter-departmental affairs with intensive coordination and settlement.
Maintaining a friendly and dynamic coordination with donors and fund providers.
Keeping regularly in touch with registration authorities and networking agencies maintaining necessary processes.
Analyzing operational data, reports, situations and engendering proper steps in implementation.
Leading and controlling agro-fishery-livestock sections and related projects and programs.
Providing automation program with monitoring and implementing assistances through overall coordination.
Human-resources
As on 31 May 2020, the credit department equipped with devoted work-force, wherein a total of 19 staff members generating planned services with effective responsibilities under a seasoned Director from head office and foundation office. Likewise, some 3,720 employees are forwarding services at grassroots through 14 zones, 71 area and 408 branch offices under the department.