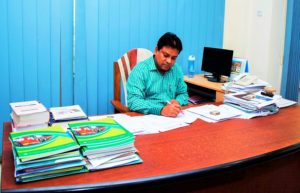 Santosh Chandra Paul, Director, Credit
Financial service for the non-bankable people is the pragmatic feature of microcredit, which brings forth the dynamic role in the field of socioeconomic amelioration at the grassroots and builds up a poverty-free society. Now-a-days, Microcredit Scheme, developing and underdeveloped countries along with Bangladesh have adopted as a major and innovative tool to alleviate poverty, carries out positive and prolific effect as well.
SSS, to keep financial services smoothly and properly into application, formally set up Credit Department to generate positive changes in living standard of the underprivileged people in the working area in 1993. Right now, this department possesses director, who steers the activities up in implementation and controlling with his seasoned hand.
As a key tool of poverty alleviation, SSS started on the Microfinance Program designed for the underprivileged families in the company of the feature of collateral free financial services to utilize internal and external assets and opportunity, which tries to minimize the financial miseries and scale up the income and living stander in 1991. The goal of the program is to include group-members in income generating activities, provide financial services, empower the women, and uproot poverty through increasing income and assets.
The program is extended over to 18,133 villages of 206 Upazillas under 35 districts financed by SSS, PKSF and Commercial Banks jointly.
The Major Objectives of the Microfinance Program of SSS:
Foundation Building-up
Capacity Building
Awareness Growing
Empowerment
Income and Employment Generation
To effective the goal-centric objectives, the program pursues the methodology: organizing and inspiring people for development, increasing consciousness to alleviate superstitions and antisocial events, analyzing assets and economic opportunities of the families, providing financial inclusive services, training and technical supports to run income generating activities, motivating toward savings for enhancing assets and capacities, creating self and wage-employment and ensuring women empowerment and Building up families and society without poverty through sustainable earnings.